I wrote, deleted, rewrote, deleted, etc. this beginning of my post a few times before I finally just walked away to another room, looked around, and came back.
I'm ready now.
I'm feeling mentally restless. I don't know when it started or why it's here, but this feeling of restless anticipation is there in my mind. I want to do something. I've been thinking a lot about projects lately, and I'm realizing more and more that I love creating. Whether it's helping a friend brew beer, organizing a bookshelf, planting a garden, or whatever else crosses my mind, I love that feeling of actively doing something, of making a nice space or a final product. I love the process. I love the satisfaction, the fun, the excitement.
I love my moments assuming Blob Formation on the couch, but I realized just now that it was making me anxious. Being still can be wonderful, but sometimes I really need to get up and walk around. So that's what I must do. I'm stepping outside, marveling at the fact that roses can bloom in the cold, and having a windows-wide-open sort of day.
reading : On the Road, though I must admit that I must have some form of ADHD because I have already starting reading another book so I can switch back and forth, not to mention my rotation of magazines that I am still working through (seriously, I found a stack of issues from March and April). Good to have options, though, right?
writing : Dissertation bits and pieces. For the rest of time. Mehhhh.
listening : To the quiet. Mmmmm. The hubs is off at his uni doing some work, the cats are napping, and all I hear is the sound of my typing.

thinking : About the phone conversation I need to have with my advisor later this afternoon. I'm a bit nervous about it, and I just hope that it goes well. Wish me luck!
smelling : Fresh, damp air from the open kitchen window. Sometimes you just need to air out the house to get a fresh start.

wishing : That the peplum top I recently purchased from J. Crew Factory had captured my heart, but honestly, it's probably better to save a bit of money. I have been on a spending spree lately! Maybe I should wish for less credit card/debit card activity...
hoping : That I actually get to do some of the activities I have put on my wintery activities list. They are mostly centered around the Christmas holiday, so I should do some thinking about logistics and when I will be doing these things, but more than anything, I just would like to really take the time to enjoy another season in this city. Who says winter needs to be a downer?
wearing : Leggings and a cotton shirt. I think I'm going to skip my farmers' market trip today so that I can tackle some more house projects, which means that I get to spend all day in super comfy clothes. :)
loving : How much better I feel when I do something as simple as clear off a table, organize, and throw out junk. Life just feels so much more manageable when my living space is orderly. Also loving the new Sunday Currently button!!!
wanting : Something warm and comforting for lunch. Soup? Hot sandwich?
needing : To fix the button on my pink coat. It popped off last week (grr), and I need to sew it back on so that I don't look too raggedy.
feeling : A bit lazy today, and of course that restlessness is here, but after I hit "Publish," I am going to start tackling some projects, so hopefully I will feel more productive as the day goes on!
clicking :
On a recent post over at
The Fresh Exchange
. I love how Megan opens this post with simple statements that evoke so much imagery and peace. It reminds me of how rewarding it is to be mindful and to savor the beauty that exists around us.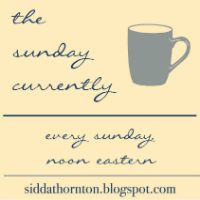 Last week on The Quixotic Chica: