There's something about the cold that makes me think more clearly. I love that feeling of walking through the city with my scarf wrapped around me, making my way downtown past the empty office buildings. There are some stretches that are so quiet, as though the tourists can't see those streets and therefore leave them completely untouched. I love those moments, when it's just me and my thoughts, which have slowed their pace to match my footsteps. Then the wind blows a chill my way, but because the sun is still shining overhead, I smile and notice the fallen leaves at my feet, and I feel so happy to be alive in this city on this day.
writing : Pretty Little Liars observations and clues on Tumblr. :) I can't help it, you guys, sometimes you just have to spend some time on the couch wrapped in blankets and watching Netflix... and being a nerd.
listening : To the wind howling outside! It's cold outside, and the wind is sending leaves flying everywhere.

thinking : That I might not have been posting a lot here lately, but I think it's been good to give myself some relaxation time. I'll be back in the swing of things after Thanksgiving!
wishing : For snow! We had a few flurries last night, and they gave me hope for real snow this winter.
hoping : That the hubs stays safe. He is currently in Honduras as an election observer, and other members of his group have experienced intimidation by immigration officials, including a group in the capital city who were intimidated by masked men with machine guns. It's scary stuff, and I just hope that he doesn't run into any trouble.
wearing : Fleece sweatpants and a t-shirt, though I'm planning to rock a jeans and sweater combo when I eventually make my way upstairs to showed and get dressed.
loving : Friends. :) This weekend has been filled with so many, all from different parts and times of my life, and I feel really happy about that.
wanting : To find some good things at J. Crew Factory today! I am headed out there this afternoon with another friend, and I really need to remember not to just buy things for myself but to actually do some Christmas shopping.
needing : Some brekkie. Eggs and fake bacon?
feeling : Happy! I've been having fun this weekend, and it's not even over yet! :D
clicking : On some blogs this morning, but I plan to do the bulk of my catching-up later today. Food first!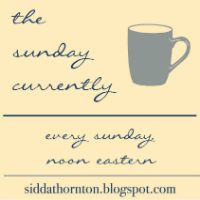 Last week on The Quixotic Chica: